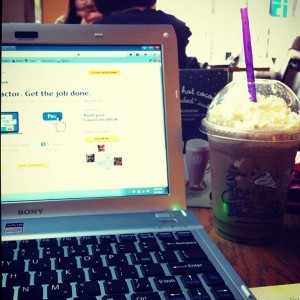 Last week I lost my internet connection at home due to technical problems with my service provider so I had no choice but to work away from home until they got it fixed. My first option was to use my internet stick (USB) at home but since the signal in our location wasn't good enough, I had to go to my second option which was to work at a coffee shop that offered free Wi-Fi services.
This wasn't the first time I had been working at a coffee shop since I had already worked there before occasionally. But since this was the longest time (a week) that I had worked at a coffee shop I'll just share my thoughts and tips on what to bring and also the Do's and Don'ts when working at a coffee shop.
Location:
What to bring:
1. Laptop
This is the most essential to bring when working at a coffee shop. The lighter the better. Don't forget to charge it in advance especially if you're planning to work longer hours. There might also be other people working at the shop and there aren't a lot of sockets available.
2. Charger
This is also important in case you need to work for longer hours and your laptop doesn't have a long battery life.
3. Adaptor
Bring this as well just in case the socket is different with your plug.
4. Swirl Rewards Card
Swirl Rewards Card is used to access the Wi-Fi at The Coffee Bean & Tea Leaf. You can purchase one right at the location. They can also be used to gain points that you can use to purchase in the future.
5. Cash
Bring extra so you can buy a drink and food in case you are staying long. Take note that you will need to spend to work here.
6. Book or Magazine
If you need to take some time off from coding or designing and need some inspiration, read a book or magazine. This will also keep you from getting bored if you are waiting for someone.
7. Notebook and Pen
For taking notes and also for drawing some inspiration.
8. Headphones
If you need to listen to some audio just put your headphones on. Mind you, the place does have good music and vibes, but it could get noisy when there are a lot of people already.
Do:
1. Buy a drink
2. Buy food when it's lunch or dinner time
3. Use headphones if you need to listen to audio
4. Throw away your own trash after you're done
5. Keep all your belongings next to you in a compact area
Don't:
1. Stay for more than four hours without buying something.
2. Be too loud especially when holding meetings.
3. Take more than one seat. Offer it to others.
4. Hog a lot of bandwidth on the Wi-Fi.
5. Keep your laptop always plugged on the socket. Give chance to others.
Read more Basic Etiquette for Working in a Coffee Shop here.
Final Thought
Overall my experience in working at The Coffee Bean & Tea Leaf at Ayala Terraces Cebu was very pleasant though I would not consider it as the best yet since I have not tried working at other coffee shops. But I would definitely recommend working there because of the free Wi-Fi, good food and drinks, and quality amenities that make it a fine work place for freelancing.
Click here to know more about their other store locations in the Philippines.
If you think there's more to bring or there are more rules to follow, or just want to share your experience, please do leave a comment. Thanks.